March 7, 2021 at 8:30 am
125th Anniversary Service

It is with joy and celebration on the occasion of the 125th Anniversary of Immanuel Lutheran Church, do we announce and invite you to celebrate with us. We would love to have you join us in praising God for all that He has done and is going to do at Immanuel! Our celebrations are planned around Covid restrictions, but we are hopeful that through this year, God will heal our land of this virus and we may have some more normalcy in our future events.
Upcoming Anniversary Celebrations:

Saints Remembrance Service and Cemetery Walk, May 30, 2021
Homecoming Service, September 12, 2021
Cornerstone Service, October 10, 2021
Through Holy Baptism, we become a child of God as our sins are washed away in connection with the death and resurrection of Jesus Christ.
Did you know?
Our Baptistry Window was designed by Bernard Greunke of the Conrad Schmitt Studios, New Berlin, Wisconsin. The artist based the window design on the event of the baptism of our Lord.
The flow of movement in the window is from top to bottom, focusing on the lower central panel where the baptismal font is located.
The voice and power of God is symbolized by the sunburst near the top of the window. The descending dove, a symbol of the Holy Spirit, is seen in the central window panel. Since Baptism is a Sacrament of water and the Word of God, the window portrays moving waters receiving the flow of God's grace and power.
The fish forms, reminding us that baptism is in the name of the Father, Son, and Holy Spirit, are an ancient confessional symbol of Christendom. The Greek word for fish forms an acrostic of the phrase "Jesus Christ, God's Son, the Savior." In baptism, we are made confessors of Him who was baptized in the waters of the Jordan.
The Baptistry Window is the gift of Dr. Walter W. Dalitsch, Jr. and his family in memory of his parents, Dr. Walter W. and Selma Erdmann Dalitsch.
The baptismal font was gifted in memory of Tracy Bragg by her parents, Mr. and Mrs. Donald Bragg, schoolmates, and friends.
A Group of men in front of the old church -
travelling by horse and buggy!
Throughout the year, we will share memories from current or former members. If you would like to submit a memory, please email it to ilcd.churchsec@gmailcom or mail it to the church office. thank you!
From Millie (Burgdorf) Burmeister
"I taught at Immanuel Lutheran School from 1951 to 1956 with Mr. Harms as my principal. There were about 42 students in 3rd, 4th, and 5th grades. Another teacher was added in my last year and then I only taught 3rd and 4th grades. I lived with the Wahlfeldts and did not have a car, so I walked to school each day. I would move back home to Elmwood Park in the summers and work at Petersen's Ice Cream to earn money. I am still in contact with some of my students via Facebook. I met my husband, Albert Burmeister, while teaching at Immanuel."
From Doris Krueger
"One Sunday morning, shortly after my husband accepted the Call to Immanuel, I was talking to our oldest member, Millie Rick, after church. She had recently turned 98. I asked her how it felt to be that old. She said, "Fine, and I'm ready to go to heaven anytime. I just hope the good Lord isn't in a hurry." I love her comment and tell people about it when discussions turn to old age or dying. She made the best lemon cream pies!"
From Pastor Krueger
"This memory involves Howard Koehn who owned a Dodge dealership. He was on the building committee for the new church and we would travel to see churches that might inspire the committee. One evening on the road he was driving his Chrysler and I was in the front passenger seat. On chance, I glanced at him and saw that his eyes were closed, driving asleep! I nudged him and called out to awaken him. A tragedy was avoided!"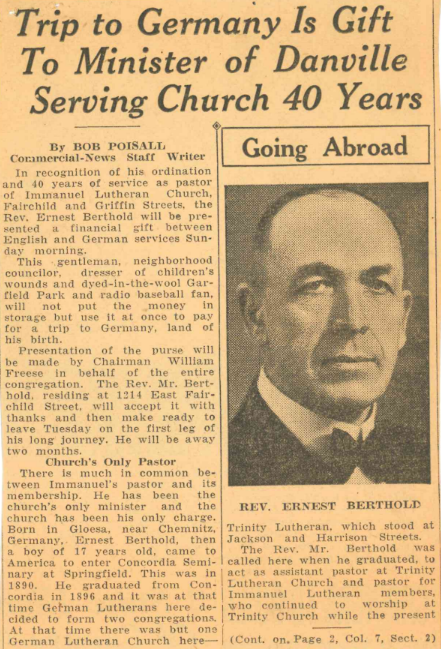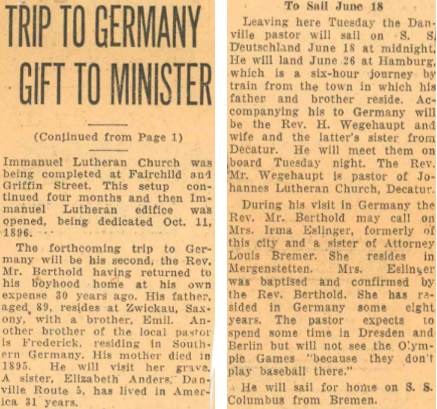 In 1936, our congregation gifted Pastor Berthold with a trip to Germany after serving our congregation for forty years. This article is about him, his service t Immanuel, and his travels. The congregation even wrote a song in honor of Pastor Berthold's return to the tune of "O Tannenbaum"!
© Copyright Danville Immanuel Lutheran Church